Tammy,

Hello! I wanted to send a few pics of the event tonight. Mom loved, loved, loved the dog! She started crying and so did my dad! We had a shell and a tee in the box with a small riddle that rhymed about opening it and the gift. As mom was reading the riddle, towards the end, Mindy snuck outside and got Elsie and mom was saying outloud, "Shell and golf tee." "Tee and Shell" Then, finally she said, "Shell and tee" and then "Shell Tee" and then Mindy had Elsie over her right shoulder and we told mom to turn around and she started crying. She said that Elsie was exactly what she wanted and was beautiful!!!! Then I look over and dad is crying and then I started snapping shots right away. Elsie played on the ground with the kids and pranced around. Mom took her outside for a walk and Elsie kept pawing at her to pick her up, which melted my moms heart! On the way home, we stopped and got a cute collar and leash that matched and they had a rhinestone heart that was for sale that you clipped to the collar and she was so cute in it.. We gave her your water and loved her for a long time before coming home. She pranced and kept dogging and going forward to my daughter's Madison's feet and that made Madison giggle a belly laugh so hard that everyone was laughing and they kept doing it to each other. All in all, a beautiful night! Thank you so much for her. She will be well taken care of, spoiled and loved for a long time! I will take more pictures for you and update you. It was very nice to have lunch with you today and I enjoyed our conversation! Thank you for making our mom's birthday soooo special!!

Blessings to you!

Kimberly

P.S. I hope you are resting your arm and taking care of yourself! :)

I WANT TO MAKE A "HEARTFELT" THANK YOU TO A BREEDER THAT HAS SEEN FIT TO PLACE MY NAME, LOCATION, AND KENNEL NAME IN THEIR CONTRACT FOR THE FREE ADVERTISING. I HAVE GOTTEN SEVERAL CALLS JUST FROM THOSE PEOPLE THAT HAVE SEEN THE CONTRACT AND RESEARCHED TO FIND ME, AND I HAVE PUT THOSE PEOPLE IN CONTACT WITH GREAT PETS.
AGAIN..................THANK YOU FOR THE FREE ADVERTISING, AND IT IS GOOD TO KNOW THAT WE ALL CAN WORK TOGETHER FOR THE BETTERMENT OF THE BREED.
Greetings !

Thank you for adding us on your Links Page !!! We appreciate it...

Also..we have loved & enjoyed our fabulous pins you made !!

Thanks Again !

Merry Christmas ! Rachel & Filiberto
Greetings~

We received the wonderful pins in the mail today..they are awesome..simply beautiful !!!

Filiberto absolutely LOVED the tie pin !!!!!!!

Thanks so Much for the wonderful job you did!!!

You need to let more people see these as they are even more pretty in Person !!!

Thanks very Much !!! Rachel & Filiberto

Rachel Hopkins & Filiberto Martinez

Starlight Shelties
| | |
| --- | --- |
| From : | Nancy Klockner <nk130@msn.com> |
| Sent : | Tuesday, April 4, 2006 6:11 PM |
| To : | "TAMMY TAYLOR" <still-watershelties@hotmail.com> |
| Subject : | Betsy Tri male |
Hi Tammy,

We wanted to let you know that we took Betsys little tri male. We are going to call him "Wayside's Code of Honor" aka Cody.

Thank you so much for putting us in touch with Betsy.

Thanks again,

Nancy & Mike
Dear Tammy,
You have no idea how much your letter helped me. I have read it several times since you sent it to me and I have had some better days. I am trying to practice the grieve for 4 days idea, although it took me 5 I have really tried not to keep crying everyday. My Mom said Kinsey would not want me to be this upset over something--it really affected him when I cried. I wanted to be sure to thank you for all of the nice correspondence lately, you have really made a difference. Thank you very much.
Thanks again for the letters and the help to locate a new baby. I really appreciate all that you've done for me. I can't thank you enough.
Lisa Compo
Union, KY



I believe -

....that sometimes when people are angry, they have the right to be angry,

but that doesn't give them the right to be cruel.
STILL-WATER SHELTIES DOES NOT SUPPORT BREEDERS THAT BREED DOGS WITHOUT DUE REGARD TO THE PHYSICAL, OR GENETIC HEALTH AND WELL BEING OF THE DOGS, OR AGAINST MEDICAL ADVICE SOLEY FOR MONITARY GAINS, OR THOSE THAT BEG FOR SPONSORSHIPS OPENLY JUST TO BE ABLE TO SHOW THEIR DOGS. ANY QUESTIONS ON THIS WILL BE ANSWERED PRIVATELY. THANK YOU.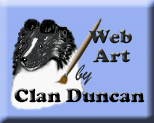 CLICK ON PIC TO CONNECT TO THE CLAN DUNCAN SITE.
THANK YOU TO CLAN DUNCAN FOR MANY WONDERFUL SHELTIE GRAPHICS.