I believe -

....that sometimes when people are angry, they have the right to be angry,

but that doesn't give them the right to be cruel.
STILL-WATER SHELTIES DOES NOT SUPPORT BREEDERS THAT BREED DOGS WITHOUT DUE REGARD TO THE PHYSICAL, OR GENETIC HEALTH AND WELL BEING OF THE DOGS, OR AGAINST MEDICAL ADVICE SOLEY FOR MONITARY GAINS, OR THOSE THAT BEG FOR SPONSORSHIPS OPENLY JUST TO BE ABLE TO SHOW THEIR DOGS. ANY QUESTIONS ON THIS WILL BE ANSWERED PRIVATELY. THANK YOU.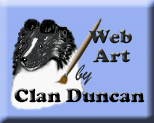 CLICK ON PIC TO CONNECT TO THE CLAN DUNCAN SITE.
THANK YOU TO CLAN DUNCAN FOR MANY WONDERFUL SHELTIE GRAPHICS.