CH. S.W.'S WIND BENEATH MY WINGS, AKA: SMOKIE
BLUE POINT HIMMIE QUEEN
REST IN PEACE MY SWEET LITTLE SMOKIE.
3/2000 - 3/2010
THIS IS WHERE I WILL POST MY THOUGHTS AND CONCERNS ABOUT DIFFERENT SUBJECTS. NO ONE PERSON OR PERSON'S WILL BE DIRECTLY NAMED, AND IF ANYONE TAKES OFFENSE TO WHAT IS SAID OR ASSUMES THEY ARE THE ONE'S BEING TALKED ABOUT, THEN THEY MUST BE THE ONE'S WITH SOMETHING TO HIDE.
ALSO PLEASE FEEL FREE TO CONTACT ME IF YOU HAVE ANYTHING YOU WOULD LIKE TO HAVE POSTED ON THIS PAGE, AND PLEASE BE ADVISED THAT YOU WILL ALSO BE REQUIRED TO HAVE YOUR NAME OR E-MAIL POSTED ON YOUR COMMENTS. IF YOU HAVE NOTHING TO HIDE THEN YOU SHOULDN'T CARE IF YOUR NAME IS ATTACHED.

"Money cannot buy affection."

In these modern times we put too much emphasis on material things and on money. We believe that money is power. If we have money, people will respect us. If we have money, people will admire us. If we have money, we can have anything we want. Maybe we can purchase anything in the material world, but we cannot purchase anything in the Unseen World. The Unseen World is not for sale. It can only be given away. Love, affection, admiration, trust, respect, commitment -- these must be earned or given away. If we use these things from the Unseen World, we are using real power.

--Mangas Coloradas, APACHE
I believe -

....that sometimes when people are angry, they have the right to be angry,

but that doesn't give them the right to be cruel.
STILL-WATER SHELTIES DOES NOT SUPPORT BREEDERS THAT BREED DOGS WITHOUT DUE REGARD TO THE PHYSICAL, OR GENETIC HEALTH AND WELL BEING OF THE DOGS, OR AGAINST MEDICAL ADVICE SOLEY FOR MONITARY GAINS, OR THOSE THAT BEG FOR SPONSORSHIPS OPENLY JUST TO BE ABLE TO SHOW THEIR DOGS. ANY QUESTIONS ON THIS WILL BE ANSWERED PRIVATELY. THANK YOU.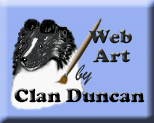 CLICK ON PIC TO CONNECT TO THE CLAN DUNCAN SITE.
THANK YOU TO CLAN DUNCAN FOR MANY WONDERFUL SHELTIE GRAPHICS.